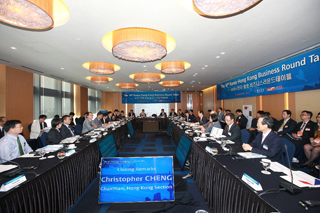 Photo taken at the 16th Korea/Hong Kong Business Round-table Meeting and Mr. Christopher Cheng, Chairman of Hong Kong section, was giving his remarks.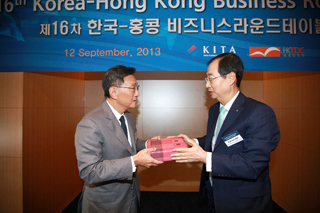 Pictured above is Dr. Han Duck-soo, Chairman & CEO of KITA (right) presenting a souvenir to Mr. Christopher Cheng (left).
The 16th Korea/Hong Kong Business Round-table was held in Seoul, Korea on 12 September 2013, and was attended by 16 Korean members and 13 Hong Kong members.

Members exchanged views actively on various topics covering new business opportunities brought about by the latest development from the new Korea and Chinese Governments' policies, especially in finance, services trade and merchandise trade. Members of both sides found the discussion highly informative and useful.

A series of side programme were arranged for the Hong Kong members, including a welcome dinner hosted by Dr. Han Duck-soo, Chairman and CEO of the Korea International Trade Association (KITA), a visit to the Incheon Deputy Mayor's office to understand the latest development plan and business opportunities available to Hong Kong companies, and a power dinner with key Korean business leaders hosted by Hong Kong section Chairman Mr. Christopher Cheng, who is also the Chairman of Wing Tai Properties Limited.

Overall, Hong Kong members showed keen interest on exploring collaboration opportunities with Korea. Through the vigorous discussions at the round-table meeting, members of both sides were also impressed by the potential business chances in the two economies and on the Chinese Mainland. It was observed that under the new administrations, the bilateral cooperation between the two economies will be greatly strengthened and Hong Kong will definitely continue to play a vital role by partnering with Korean business to pursue the myriad opportunities on the Chinese mainland and in other Asian countries.

The next meeting will be scheduled to be held in the second half of 2014.