Hong Kong-Korea strengthen bilateral business partnerships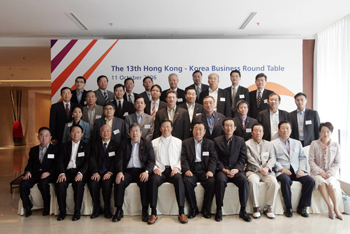 Pictured in the front row (fifth and sixth from left) is TDC Chairman Mr Peter Woo and Mr Lee Hee-Beom, Chairman & CEO of KITA. Directly above Mr Woo is Mr Steve Alexander, Deputy Executive Director of TDC.
The 13th Hong Kong-Korea Business Round Table was held in Shenzhen on 11 October 2006. The meeting was co-chaired by TDC Chairman Mr Peter Woo from the Hong Kong side, and Mr Lee Hee-Beom, the new Chairman & CEO of the Korea International Trade Association (KITA) from the Korean side. The 40-strong Korean delegation also met TDC Executive Director Mr Fred Lam in Hong Kong, as well as Shenzhen Mayor Mr Xu Zhong Heng in Shenzhen on 10 October.
The bilateral meeting discussed ways to increase cooperation and create closer economic partnerships between the two regions, particularly in the sectors of electronics and ICT, digital entertainment, logistics, and environmental protection.