Hong Kong-Korea strengthen bilateral business cooperation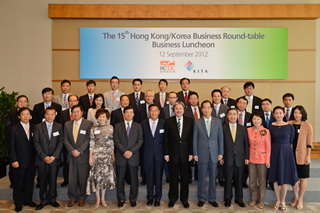 Group photo of the round-table members with Mr. John Tsang Chun-wah, Financial Secretary of Hong Kong Special Administrative Region, Guest of Honour at the luncheon (sixth from the right in front row). Mr. Christopher Cheng, Chairman of Wing Tai Properties Limited and Dr. Han Duck-soo, Chairman & CEO of KITA are on his left and right respectively. Mr. Fred Lam (fifth from left) is the Executive Director of HKTDC.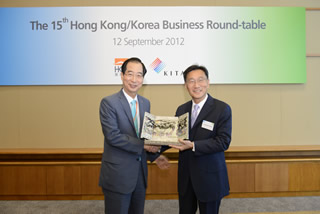 Pictured above is Dr. Han Duck-soo, Chairman & CEO of KITA (left) presenting a souvenir to Mr. Christopher Cheng, Chairman of Wing Tai Properties Limited (right).
The 15th Hong Kong/Korea Business Round-table was held in Hong Kong on 12 September 2012, and was attended by 16 Korean members and 11 Hong Kong members.

Members exchanged views actively on various topics covering bilateral cooperation on financial, environmental and creative industries. Members of both sides found the discussion highly informative and useful.

The round-table meeting was followed by a business luncheon featuring a keynote speech from the HKSAR Financial Secretary on Hong Kong's strategic role as the international financial centre.

A series of side programme were arranged for the Korean delegates, including a KRT Re-union Dinner hosted by the former Korean Consul General, a visit to the Hong Kong Science and Technology Park, a farewell dinner and a golf networking session hosted by the HK Chair Mr. Christopher Cheng.

Overall, Korean members showed keen interest on the collaboration opportunities with Hong Kong. Through the vigorous discussions at the round-table meeting, HK members were also impressed by the potential business chances in Korean. It was observed that the Korean Government would gradually take measures to lower the trade barriers and entry threshold especially for overseas services providers, which offers great potential for Hong Kong companies.

The next meeting will be scheduled to be held in the second half of 2013.